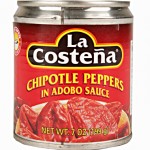 About a year ago I got a can of La Costeña Chipotle peppers in Adobo Sauce as a gift from a friend, who was in Mexico for a few weeks.
Ever since, I was wondering if I could make these myself. I have a love for hot stuff, am cooking quite a bit, and own a small smoking box, which I used quite a bit back in the days, when I still was fishing more.
So, when I saw some Jalapeños on sale in the local supermarket, I decided to give it a try. On chefkoch.de, I found a wonderful recipe, which I'd like to share with you:
Ingredients:
16 freshly smoked Chipotle peppers
200 ml vinegar
50 g brown sugar
1 medium sized onion
4 clefts of garlic
3 medium sized tomato
2 bay leafs
½ tsp. salt
½ tsp. ground black pepper
½ tsp. cumin
1 pinch of cinnamon
Cut the tomato, onion and garlic in coarse pieces. Heat the vinegar in a pot and dissolve the sugar in it. Add all remaining ingredients and simmer for 20 minutes. Now add the Chipotle peppers and simmer for another 30 minutes. If you use dried Chipotle peppers, add them to the Adobo Sauce from the start. Keep stirring the sauce every few minutes so the ingredients fall apart a bit. After cooking, you can put the sauce into glasses and keep them for some time. Enjoy!
Below are some pictures of a variant of this recipe, in which I used green tomato instead of fully ripened ones and ordinary smoked red chilli peppers instead of Jalapeños. The result was still hot and tasty!
NP: WIZO – Zombiemann